16 Jan 2020
COMPLETELY RETAIL MARKETPLACE 2020 EVENTS UPDATE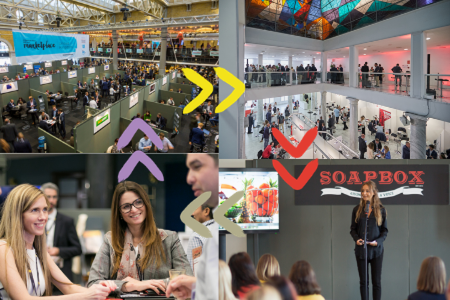 A key theme across last year's CRMP event delegation was reinvention. The industry is redefining itself with innovative and exciting new concepts and developments that reposition shopping centres and spaces as 'destinations' for communities to be able to shop, work, play, exercise, eat and stay.
This momentum is sure to continue in the first of CRMP's 2020 events, CRMP UK on 28th April at Old Billingsgate Market, London, with companies including Avison Young, ALDI, British Land, Capital & Regional, Carter Jonas, Co-op, CWM, Eric Young & Co, intu Properties, Knight Frank, LIDL, NewRiver, The Crown Estate and The Gym Group already confirmed to exhibit.
Unique from any other retail property event, CRMP operates a no-fuss, stripped format, where a targeted gathering of retailers, e-tailers, property agents, landlords, franchise operators, developers and shopping centres meet to network and discuss site opportunities and growth within the respective retail markets – specifically the UK, Nordics and Iberia. No third parties attend the CRMP events.
How do I get involved in the event if I'm a retailer?
All visiting retailers attend for free*, making the events highly accessible and removing the worry of cost so that the focus is kept firmly on making valuable property connections and accelerating the lengthy process of property acquisition. Delegates arriving internationally to a CRMP event can also benefit from a monetary flight contribution**. For 2020, CRMP have scrapped the cap on free attendees from each brand. Now, all delegates who are representing a brand and every occupier can attend CRMP completely free of charge.
Brands small, medium and large have benefited from attending CRMP over the years, including fashion and accessory brands such as Lovisa, Uniqlo, Schuh, Moss Bros, Foot Locker, MON Bijoux and Primark, as well as lifestyle and leisure brands including Snap Fitness, Village Hotels, The Light Cinemas, Trespass, Decathlon, B&M Retail, L'Oreal, Sofology and Rock Up. Food and beverage concepts including Snowflake Gelato, Flower Burger, Tutti Frutti Frozen Yogurt, Fit Treat Guilt Free, Radio Alice Pizzeria and many more have also visited the events seeking new restaurant sites, kiosks and pop ups.
How do I get involved in the event if I'm a property professional?
Property agents, landlords and franchise and pop-up organisations with available commercial space and empty sites are all welcome to attend the event and will get the chance to meet the diverse delegation of retailers and find out who's entering the market. Past companies who have attended include Intu Properties, CBRE, AMF Fastigheter AB, Landsec, BNP Paribas, Merlin Properties, Atrium Ljungberg, Cushman & Wakefield, Ingka Centres, Colliers International, and Unibail-Rodamco-Westfield, Citycon.
Property professionals pay a one-off rate for entry and that's it. For the CRMP flagship UK event, which is held twice a year in London, a discounted annual pass is available to property delegates, providing a cost-effective way to visit both events.
Can I book a meeting space for the day?
One of the defining features of CRMP is its exhibition stands. All the same size with identically sized branding, the stands create uniformity to enable a level playing field for all. This opens up the event to smaller brands and lesser-known international delegates, facilitating an approachable environment.
Once a company has secured exhibition space for the event, they needn't worry about anything else. Simply just turn up on the day and the stand is pre-made and branded ready for you to do business.
If a company can't make the event, they can opt to partner with CRMP and take up one of the many sponsorship options to benefit from exposure both digitally and onsite with prominent branding, from core sponsorship of the event to lunch sponsorship and more.
I'm a small retailer looking for my first physical space, can I still attend?
To further support smaller brands looking to grow within a certain market, CRMP runs 'Soapbox sessions' at every event.
A hit with the various retailers that have taken part, including London Grace, PureGym Local, Engenie, Fruitisimo, Dashl, Dum Dum Donuts, MADE.COM and Pirate Studios, the Soapbox stage allows the brands to pitch site requirements to an audience of the event's attending agents and landlords. Taking part is free and all brands need to do to sign up is fill in a quick online form summarising their background and requirements.
2020 events dates
CRMP UK – 28th April 2020. Old Billingsgate Market, London
CRMP Nordics – 3rd June 2020. The Brewery, Stockholm
CRMP Iberia – 16th June 2020. Palacio Neptuno, Madrid
CRMP UK – 29th September 2020. Old Billingsgate Market, London
If you're interested in getting involved in any of the CRMP 2020 events via attendance, exhibition, sponsorship or partnership, please visit the newly revamped event website below, or contact a member of the Completely Events team for more information.
https://www.crmarketplace.com/
Our current sponsors and partners include PropertyEU, Infabode, The Gym Group, Co-op, Stockholm Fashion District, Hi Retail, Retail Focus, The British Retail Consortium, Inforetail, Citycon, EG and Iberian Property.
*Rate does not apply to agents representing retailers.
**T&Cs apply to flight contributions. Contact the team for further information.
 
Testimonials
" We had another excellent day at the UK event in October, an event which has become an integral part of our networking strategy every year. As well as planned meetings, we get a lot from the ad hoc chats on the floor as we circulate the hall during the course of the day. "
- The Gym Group
" The Nordics event was an ideal event to network with the retail and shopping centre industry. I had the opportunity to promote our brand on the Soapbox stage and was very impressed with the turnout. The event was well organised and offered a platform for me to connect with the Scandinavian market and promote our brand."
- Giordano
" The UK event is a key place to be for the retail property industry. It enables our team to engage directly with landlords, developers and agents in order to drive deals forward. "
- Costa Coffee
" We've attended a few CRMP events, including the Iberia edition, and found it's the ideal place to introduce our brand to a new market. We made many new contacts and were able to promote the brand in a relaxed format to a lot of people, all in one place. "
- Pirate Studios
"As a new restaurant business, CRMP was a fantastic opportunity to raise our profile with property agents and landlords. Our Soapbox presentation was very well received and has led to some fruitful connections and conversations. And we loved our full page spread in the magazine (One Day Magazine, the CRMP event guide)!â€'
- Chukus London
For more information, please contact the Completely Events team at info@completelyevents.com