11 Feb 2020
Working smarter, not harder – just in time. By Caitlin Read from Comexposium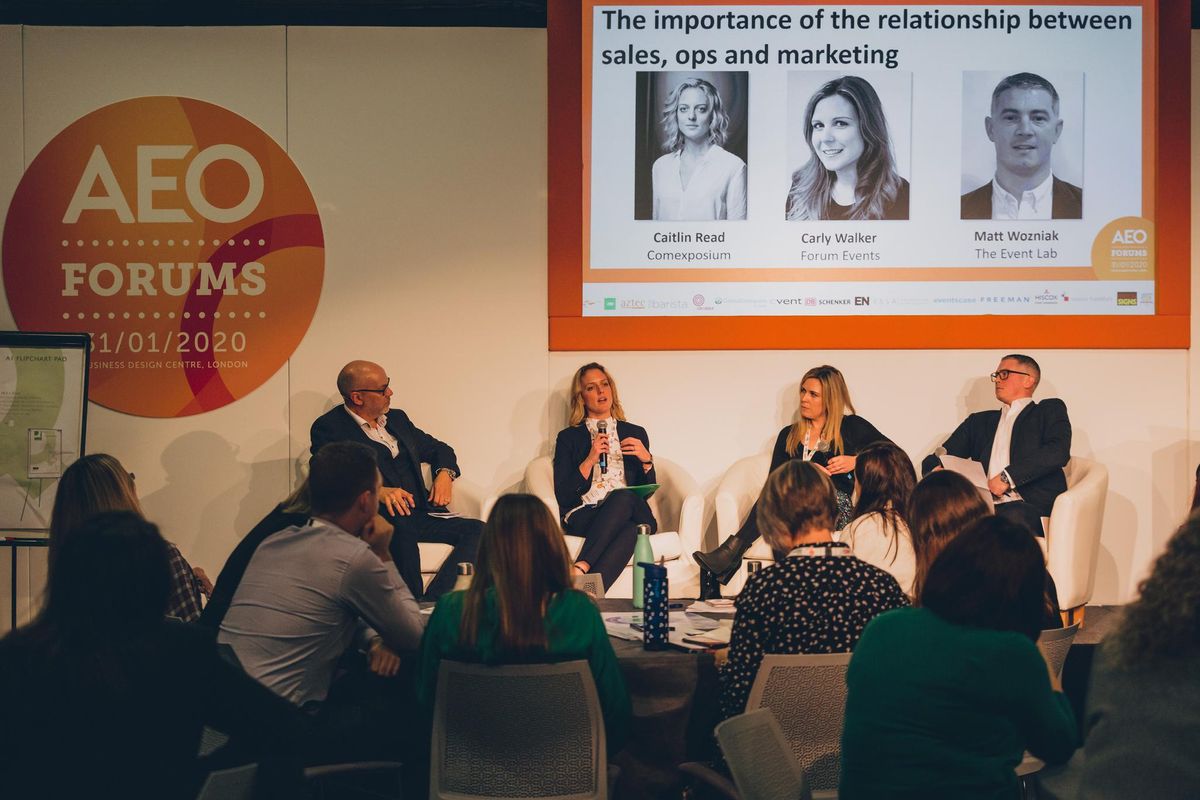 The theme of the 2020 AEO Forums was "Work smarter, not harder," and I can't imagine a more apt theme for the beginning of 2020.
Customer focus
Within the exhibition industry over the last few years, we've been heavily focusing on understanding, planning, and measuring, customer experience. How do we deliver exceptional, and unique, experiences for our clients? What are best practices for creating meaningful connections? How do we deliver bespoke journeys for each person at the show?
Customer focus is, has been, and will continue to be, a huge priority for everyone in events. But also, how-in-the-heck can we do it all?!? Our industry is now seeing more events each year, more co-located events, B2B work events, B2C passion events, niche communities, networking nights, expert panels, online communities … and the list goes on. To deliver all these events, our teams are working themselves to the bone trying to deliver more great experiences.
So, something must give
It's widely acknowledged that exhibitions have changed, and what our customers want and expect has changed. So, we adapted. And, we will continue to adapt. But, it's past time that we also start adapting the ways we work to deliver these events. We need to be looking for ways to work smarter. This may be more collaborative ways to work, focusing on higher-value tasks, finding innovative solutions, using technology better, or other ways of prioritising what's important. But what's key is that we need to find ways to work smarter, and to make the time to figure out better ways to work.
Simply, there is no more room to work harder. We've reached the breaking point. So, help me, if I have to track one more mailing list on an excel sheet, I am going to retrain to work in finance.
Tips for working smarter
With this in mind, operations, sales, and marketing professional from the exhibition industry headed to the 2020 AEO Forums. The day started out with Nalan Emre, from IMEX Group, talking about sustainability in events. She stressed the importance of working together across internal functions, as well as getting buy-in from customers and suppliers, to start shifting mindsets and making a real difference.
We then broke into three groups, Sales, Operations, and Marketing to focus on tips and ideas for how we can work smarter, not harder, within our own functions. Deep diving into specific topics within each function and hearing practical advice from experts.
Smarter and more collaboratively
At the end of the day, we all came together again to focus on collaboration. As events teams, we have the same ultimate product, customer, and deadline. Therefore, we need to work together to be truly high performing teams.
In our separate streams, we talked about what's going well with our relationships and where do we need to improve. Will a sales person and a marketing person ever agree on "this exhibitor is upset, do some social for them?" Will anyone ever get their items in on time for the operations deadlines? We can live in hope.
After our functional discussions, we came together to debrief, and much to the relief of the AEO organisers, it seems the consensus of the attendees was positive. We know we aren't perfect, but we are willing to work on our relationships and improve our teamwork. The classic, but classic for a reason, items around communications and sharing information came up. As well, we heard a lot about being flexible in what your definition of a team is, sharing information and priorities, and keeping an empathetic mindset. It was a good reminder to work on breaking down those silos. Maybe next year, we can check in again and see if the needle has moved?
All in all, the Forums were fantastic. Participants in all the streams came away with valuable tips they can put into practice as soon as they're back in the office. I also hope we all learned a little more what it's like to walk in one another's (hopefully eco-friendly) shoes.
Coming up next
Thank you so much to everyone at AEO who helped to put this year's Forums together. I am already looking forward to next year, but I hope to see everyone sooner at the AEO Awards on 12 June. Also, don't forget about the AEO Working Groups, where people across the industry are getting together to discuss and tackle our common problems all year-round.