30 May 2022
The Threat Is Here and Now - Are You Protected? brought to you by our insurance partner InEvexco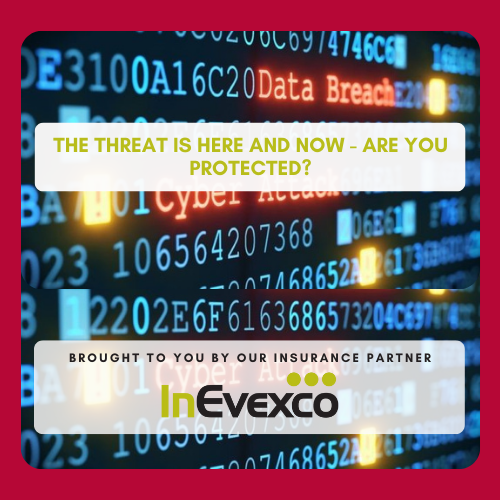 Protect your business and clients before it's too late.
What is Cyber ransomware?
Ransomware is a form of malware designed to encrypt files on a device, rendering any files and the systems that rely on them unusable. Malicious actors then demand ransom in exchange for decryption.
Once inside your system sensitive information can be copied and its 'return' or deletion ransomed. Ransom demands often start in the millions.
46% of UK businesses have suffered a cyber incident in the last 12 months and any business, big or small, can be targeted.
Example:
A hacker gains access to the company computer system and locks down all features. They demand payment of a 'ransom' to release the system. The malicious actor would usually time their attack to when the target is likely to need to regain urgent access, such as the opening of a new show or on the verge of a new contract or simply right before pay day.
What is phishing?
Phishing is an attack that attempts to steal your money, or your identity, by getting you to reveal personal information -- such as credit card numbers, bank information, or passwords -- using websites/emails that pretend to be legitimate and look very close if not identical to the company they are trying to mimic.
In 2019 90% of attacks seen by the ICO could be attributed to human error or mistake rather than hardware or software vulnerabilities.
Example:
An email hacker using an almost identical email address of a senior member of staff within the business, asking for invoices to be paid, using bank details on these invoices which have been changed. The recipient of the email follows the instruction, paying money into the fraudulent account.
The hacker could also infiltrate the company computer system and re-send altered invoices to clients for payment. Clients then pay the hacker's fraudulent account rather than the company, leaving both with a potential loss.
These are only two scenarios, there are many others.

Cyber Insurance is available for companies to purchase and we can arrange protection for your business, which will also help protect your clients. These policies are competitively priced and also offer a professional and legal support service if you were to suffer an attack. A dedicated team of Cyber breach experts will assist at every stage of incident investigation, they help you establish what's been compromised; assess your responsibility; and notify those individuals affected. In addition, they coordinate credit or identity monitoring for your customers and provide cover for the loss of revenue and any subsequent increased costs of working, forensics and PR.
Please get in contact now for a quotation.
*Cyber Security Breaches Survey 2020, DCMS
Footnote 1: This source contains public sector information licensed under the Open Government Licence x3.0
Phishing dominates UK cyber threat landscape, shows analysis of latest ICO figures, CybSafe press release, 2020

InEvexco Ltd is authorised and regulated by the Financial Conduct Authority No.579079