23 Oct 2019
Tacos, tequila, and other misconceptions of events in Mexico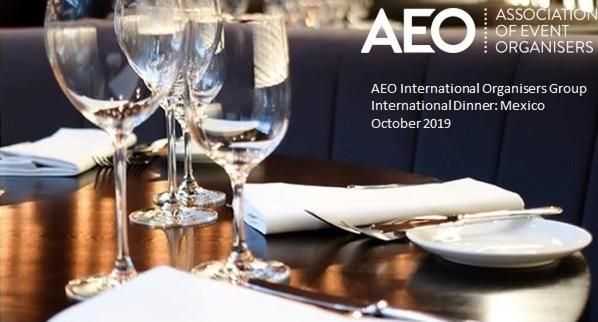 An AEO International Dinner discussion about the Mexican exhibition industry
On a very autumnal, windy and rainy, Monday night in London, the AEO International Organisers Group brought members of the exhibition industry together to discuss far more temperate shores. It was our regular International Dinner, this time, focused on Mexico.
As is the usual format, we had a little over a dozen people together in a private room of a buzzy restaurant, to eat, chat, and have an in-depth discussion in a relaxed format. To share his knowledge of the Mexican exhibition industry, we were fortunate to have Paul St. Amour, VP Latin America at Tarsus Group. Paul has lived and worked in Latin America for over 20 years, calling Mexico City home for more than 15 years.
Mexico is the 15th largest economy in the world, second largest exhibition market in Latin America, behind Brazil, and hosts about 300 major annual trade-shows and 1,000 regional events each year.
Like all geographies, Mexico has advantages and opportunities, and also its challenges, so we had a lot to discuss at dinner.
International misconceptions
The first topic we talked about was the international image of Mexico. It is a large country with a well-established exhibition market, but often plagued by misconceptions, creating headaches for local and international organisers. Myths that Mexico is "dangerous," "just a vacation destination," or "doesn't have much serious international business," are often emphasised by TV, news, and movies, causing issues when talking to exhibitors and visitors about events in Mexico. Compound this with the challenges of obtaining visas, especially from China and Russia, and it can be a real task to sell Mexico as a destination to customers.
Despite the plague of misconception, there are international and local organisers making a real success across several sectors - fashion, food, and manufacturing to name just a few. Some of the big players are Reed, Informa, Tarsus, and Hannover Messe. As well, local organisers, associations, and venues also have their own brands. The market remains very fragmented in terms of M&A, as most organiser run a limited amount of shows, and associations and private organisers are showing willingness to partner and sell.
Putting on a show
Paul explained how the majority of B2B events, especially big international events, take place in Mexico City. However, there is growing opportunity to create regional B2B events, with its 31 states Mexico is a large country with regionally distinct buyer markets. Consumer shows are also popular, because there is a continuing lack of trust in online shopping, with wedding and quinceañera (celebration of a girl's 15th birthday) related events as some of the most prolific.
Contrary to what many believe, exhibitions look more like a European show, with modular or custom build, and no pipe and drape. Venues are modern and a good quality and size, but often expensive as privately owned. The hours of an event are similar to other Latin and South American countries, generally from 13:00 – 19:00. Uniquely, attendance for a show builds as it goes on, so often the last day of a 3-day event will be the most popular. For this reason, it's important to have good word-of-mouth for your events, as well as ensuring the marketing campaigns continue throughout the duration of the event. Paul also emphasised the need to have a local Mexican partner to work with as local knowledge and connections are key as in many markets, as well as the need to be able to operate in Spanish.
Tips for succeeding in Mexico
There are many opportunities for launching, geo-adapting, and establishing businesses in Mexico, but it can be a tricky geography to navigate. The tax, invoicing, and legal systems can be extraordinarily complex, so having a local JV is an enormous help. Most importantly, you need to build trust with anyone with whom you'll do business. Look to create long-term relationships and never discuss business with someone you've just met, establish your relationship first.
I'd like to thank Paul for sharing his expertise with us, and everyone who braved the rain the other night. I know we all enjoyed the discussion over dinner, it's a fascinating country, and we are now more knowledgeable about the opportunities in Mexico.
Want to carry on the conversation? What trends and opportunities do you see for the exhibition industry in Mexico?