04 Jun 2020
Project Confidence – preparing for the 'new norm' in events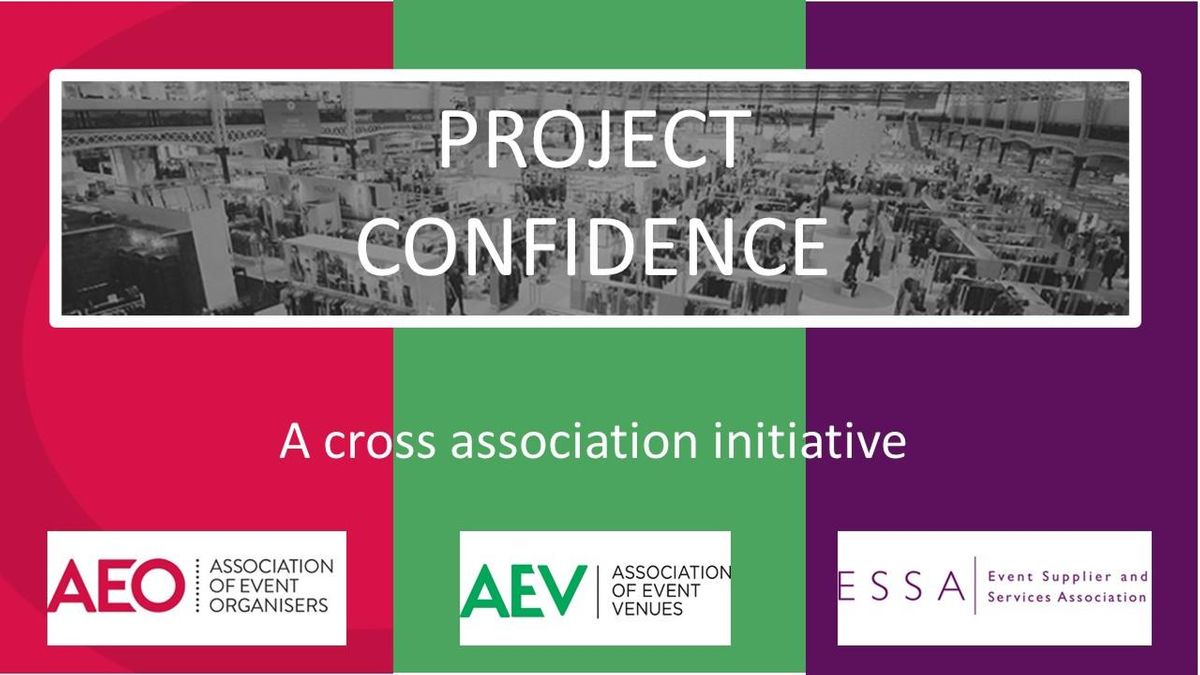 If you're in the business of event marketing, chances are, you've found yourself asking what on earth a pandemic means for your 2020 marketing plan.
With some, if not all of your plan thrown out of the window, the time is NOW to back the truck up to customer-centricity.
Your customers' attitudes and behaviours surrounding events are no longer what they once were. And their confidence? Their confidence is going to be a major driving force in the survival of our shows and the industry we all love.

Enter 'Project Confidence'
Tuesday 19th of May saw the inaugural 'Project Confidence' working group, made up of some very talented event marketers across AEO, AEV and ESSA membership, come together to discuss a unified approach to managing stakeholder confidence.
The objective? To send a uniform message to our audiences, which instils a renewed confidence in live events on the other side of the pandemic. One which prioritises their safety above all, without compromising on the value they derive from live events.

Key considerations to factor into our message
Timing
Riding the wave of consumer sentiment is crucial in sustaining good stakeholder relationships.
Our customers are human, just like us. You're likely not thinking about booking tickets for the next event during the lockdown, so it shouldn't be surprising that they're not either. Our communication should be respectful of that.
If the time isn't right to be promoting your event, can you offer something different? Free content is a good way to keep them engaged.
An interesting point raised in the discussion was that changes in government guidance often sees a shift in consumer behaviour - e.g. the government's easing of restrictions is likely to see consumer confidence on the up.
Anything we put out into the ether seen to be contradictory to the sentiment of the government could portray us in a negative light.

Reassurance
Event stakeholders want to know they're in safe hands and it's our job as an industry to make sure every measure has been taken to minimise risk and our job as marketers to communicate this.
With the recent news in Germany of the separation of exhibitions from mass gatherings, we have the advantage of communicating messages which promote well managed and controlled environments.
Many of us will be guilty of displaying pictures of packed halls in our event communications and on our websites. If we want to give reassurance, we must be quick to change how the face of events looks to our customers to make them feel safe.
While safety will be important to our community our communication must strike a balance between safety and enjoyment. Nobody wants to jump a million hoops to be a part of an event - people still want to connect and have fun!

Embracing the 'new norm'
Whether we like it or not – events will change for the foreseeable future, with a greater shift towards hybrid events. A wonderful collision of digital and live.
Technology will be paramount offsite but we must begin to look at how technology can support us in managing density onsite - at entrance points and hot spot areas using infrared and heat maps.
Fear of the impact this may have on the bottom line may mean that embracing the new norm is met with some resistance – but we must adapt to thrive and see this as an opportunity to deliver value in other places.

The good news is…
Customers want to continue the relationship and even during lockdown have demonstrated an appetite to get back to live events when the time is right. These times have set apart digital and live and the unique value they bring.
We are in control of our floorplans and have the flexibility to create the necessary space which adheres to approved guidelines.
The last two months have taught us just how much we crave human interaction - so while the return to live events will be gradual, they'll be better than ever before.
We thank all those who contributed to the discussion and look forward to the next meeting.