18 Jul 2022
National Mourning Cover is Still Available, brought to you by our insurance partner InEvexco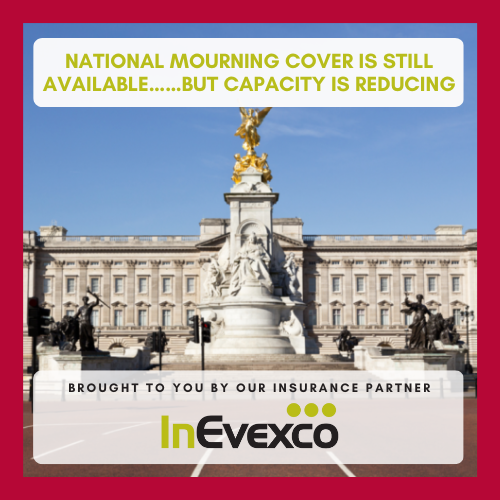 For those of you who have been followers or Clients of InEvexco for a while, you will have seen we have been writing articles on the importance of National Mourning insurance protection for some time.
We continue to believe this extremely sensitive issue is going to have considerable impact to any events taking place on the date of death of a Monarch and even more devastating effect on the date of the funeral.
Many Insurers are no longer offering this cover, but we are pleased to announce that we are still able to get this cover from the Insurers we work with. However, capacity is limited and as a result we are now having to turn down some applications where we have already reached the maximum aggregated capacity for the relevant day of an event. At this moment in time, aggregations are very high in Quarter 1 of 2023.
We are therefore urging any Organisers / AEO Members we have not already assisted, who have events in 2022 and 2023 and wish these to be protected against National Mourning to get in touch with us to see if we can offer capacity for key event dates before they reach their capacity limit.
If you wish to discuss the extent of cover provided or enquire if there is capacity for your key dates please contact Mark Blair on 07834 158074 / mark.blair@inevexco.co.uk or Rebecca Hulls on 01732 757624 / rebecca.hulls@inevexco.co.uk and we can arrange a chat to see if we can accommodate your requests.
InEvexco Ltd is authorised and regulated by the Financial Conduct Authority