24 Jan 2022
Key takeaways from the AEO International CEO Summit, January 2022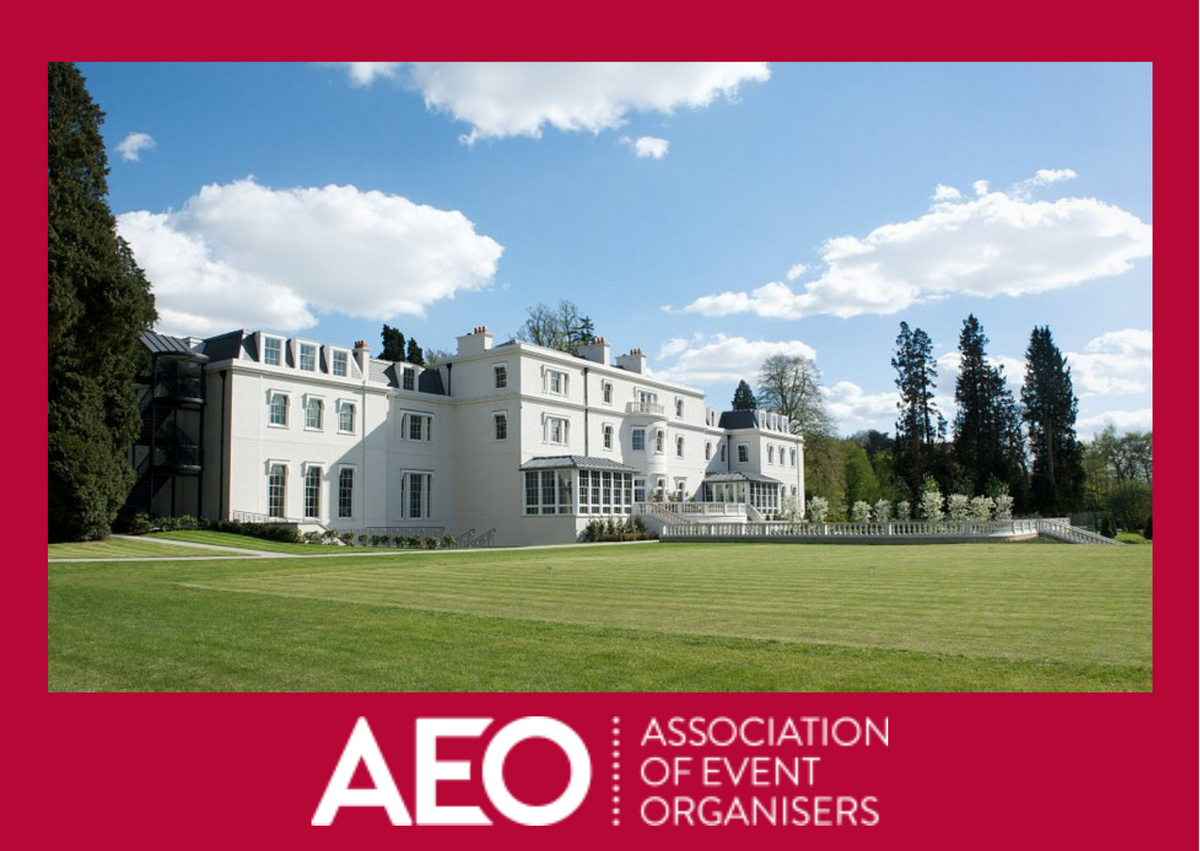 We are delighted to get back to our pre-pandemic tradition of kicking off the New Year with the AEO International CEO Summit in January. Last week, the AEO International Group welcomed a select group of our member CEOs to join us at Coworth Park, to physically re-connect, discuss global issues affecting our industry, and share knowledge and insight for 2022 and beyond.
After the Summit, our CEO Chris Skeith caught up with Damion Angus, Group MD of Montgomery Group and former AEO Chair and Simon Foster, Group CEO of Arc and Chair of the AEO International Group for a quick Q&A about their big takeaways from the Summit and thoughts on the industry for 2022.
Chris: We're in person! I know a lot of events in the UK and Europe had to postpone their plans in January, so what's it like being here actually getting to meet face-to-face?
Damion: It hasn't been the start to 2022 that our industry was hoping for, the Omicron variant tore through the globe too quickly and was too unknown for many of our industry's events to be able to go ahead as planned. However, now that we've seen the quick rise and fall of this variant, we can be optimistic for the year ahead. For us to be able to get together here at the AEO CEO Summit is a testament to being able to run events safely and productively, even in an unpredictable climate. And of course, it once again underpins that nothing beats face-to-face.
Simon: January always holds that promise of a clean slate, a new beginning, and so it's really the perfect time to get together and share ideas for the year ahead. I'm incredibly pleased that we were able to go ahead with the annual Summit because as a group we have so much to discuss and the speed of change has never been more pressing. To be able to be in the same room with so many of our industry colleagues sharing our concerns was incredibly valuable. My hope for this year is that we will become more and more accustomed to meeting, with few restrictions in place, and that our attendees and exhibitors can share in that confidence.
Chris: Were there any topics discussed during the Summit that were new or particularly useful to you?
Damion: For me personally, the "Around the World in 90 minutes" session was the most helpful. We are still in a time of change, and while it's certainly getting better, it's still a challenge to stay on top of everything that is going on, so hearing from industry peers was a great opportunity to gain a better understanding about how they manage their businesses in global markets. It really helps get a feel for what is happening on the ground, especially in regions that are taking longer to come through this pandemic, like Asia Pacific, where they have made the decision to eradicate the virus as opposed to living with it. The openness and collaboration in the room really made that a very useful exercise.
Chris: I agree, it was mind bending to hear how differently the virus is being managed regionally, and interesting that as a result of China and the Far East coming to a standstill, other regions like the Middle East are benefitting from shows being moved there. It was also inspiring to see the ever-nimble organisers adapting to the changes being thrown at them, noting a shift in the seasonality of events in Europe and not being afraid to move shows into – potentially permanent – Spring slots as they pose less risk.
Simon: I was also encouraged to hear the success stories coming out of the Middle East. They've taken a very structured approach, since about May 2020, not only to health and safety, but to vaccination requirements as well, enabling them to keep running events fairly consistently, and providing clarity on what is needed from us as organisers to instil confidence in our audiences. It is a model that can really help to pave the way for the rest of the world. I believe the Ops community is currently working on a case study on this and will share soon with AEO members.
Chris: The "Around the World" session certainly helped to get us all up-to-speed on what's happening now. But what about for the future? Was there anything particularly useful for your 12+ month planning that you took away from the Summit?
Damion: I always enjoy the economist overview. I find it very useful in trying to see a bigger picture than just "a single event" or even just the challenges our industry is facing, and it was encouraging to hear that he believes we are on the upshot of a V shape recovery. His view of the next twelve months looking at the short-term implications of supply chain, wages and energy prices has also given me much to consider when looking at some of the sectors we serve, as well as the slow bounce back of the aviation sector and what this will mean for our international audiences.
It was no surprise that the economy in certain regions needed to catch up with the vaccine programme and this will impact the running of shows in those locations where there has been a slower uptake.
I also really enjoyed Renaud Hamiade's after dinner speech. He gave us an insight into just how hard the last two years have been for him in France and he really underscored what we have all been going through. To have such a charismatic and entertaining speaker talk with such openness and honesty is always a really great way to finish off the event.
Simon: For me, and I think for many of us in the industry, data has been and continues to be one of the most important topics in our industry. We are in the business of selling connections and the more we can learn about, understand, and use our data, the more successful we can be at meeting our customer's needs. Mark Parson's did a great session during the Summit about looking at data structures and models and has shared a piece here which I would encourage everyone to read.
Chris: So, what's next? What do you think we need to talk about more as the International Group? What are going to be the key opportunities and challenges for the next 12 months?
Damion: As Simon was saying before, data. It's such a key to our future success, and we keep talking about it and moving forward, it still needs to be at the forefront of all our minds. I think that continuing to lean on each other and have a global perspective on what is taking place in each other's businesses is key to navigating towards an endemic. With that in mind we will continue to run the popular "Look East and West" podcast this year to support members with insights that they can use to influence their decisions.
Simon: You know I'm in agreement on the data piece, as both a long and short term opportunity for the industry. I'd also say one of our more pressing shorter term concerns is also around talent/retention. We all know we're in the "great resignation" which is impacting all industries and geographies, but in particular our industry has really been challenged during the pandemic, so this is a key focus for us to rebuild. I look forward to seeing what comes out of the Development Board on this and the results of the Talent Project.
Chris: Thanks so much Damion, Simon for all of the time you gave up to help shape what has been a successful day and one in which we have had such positive feedback.
Next up for the AEO International Group, we are going to be back to face-to-face in 2022. We are planning International Dinners, physical get togethers, and an Asia CEO Summit in Singapore 4-6 October. Look out for our podcast series, with an appearance from Mark Parsons to help you understand how data creates opportunities.