15 Feb 2023
Insights from the International CEO Summit - Chris Skeith OBE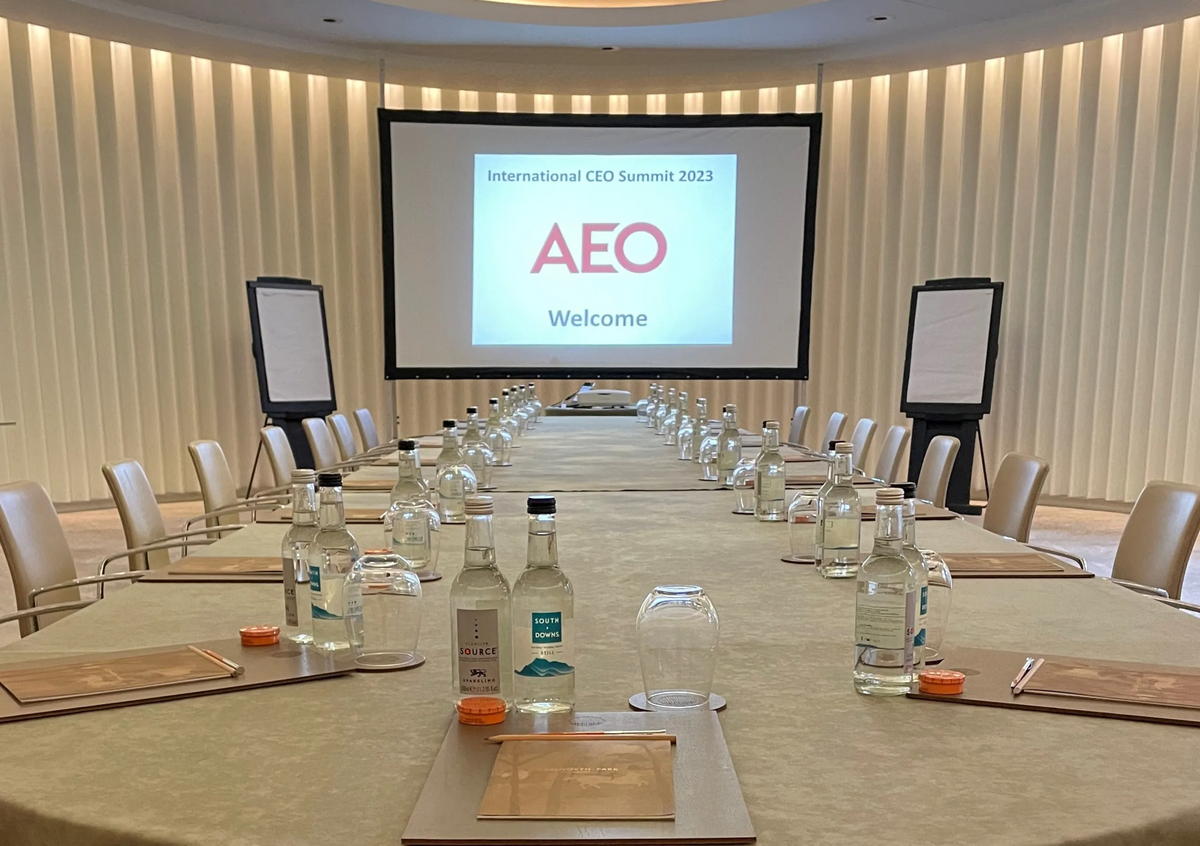 The 19th of January saw AEO's first event of the year, and the 8th iteration of the AEO International CEO Summit.
Our annual gathering went to Coworth Park for a lively and insightful debate on the economy, the future workforce, and new and traditional business models.
The event was chaired by Simon Foster from Arc International and opened by the UK Chief Economist from EY, who painted a picture of the year gone by from post pandemic optimism, to navigating inflation caused by the war in Ukraine, and the impact of continued lockdowns in China and Asia Pacific.
The good news?
Despite political challenges, inflation and interest rates are beginning to stabilise, due to sourcing alternative fuel supplies and a reduction in consumption.
Supply chain pressures, shipping costs and lead times are steadily coming down.
In the short to medium term, China is expected to bring back business tourists later in the year as they run through their covid cycle.
It is expected that the labour market will continue to be tight, due to structural change to the labour force following Brexit and the great resignation.
What did we learn about the longer-term outlook influencing consumers?
The cost of borrowing will remain higher than previously thought, so is likely to impact on investment and possible business closures.
The move for stable and secure energy supplies will remain.
Continual shifts in people and talent behaviour.
Consumers will adapt their buying preferences due to the cost of living, Net Zero, affordability.
Security, tech, improvements in travel and a thawing of the relationships between UK and EU will remain front of mind.
Talent and culture
We looked at open and progressive cultures and how they allowed for greater inclusivity and thinking, which welcomed every protected characteristic, campaign or cause.
Key insights?
Inclusive cultures welcome everybody in a way that every group/community feels part of the organisation.
Globalisation is really helping create these inclusive and open cultures, where presenteeism is not confused with productivity.
Companies clear on outputs and skills are reaping the benefits of an agile and hugely productive workforce.
Defining your organisations culture is an important way for people to feel connected to the mission and vision of the company, and to the tone of voice used.
The need for the company to be accountable to its culture is paramount, as is the need for its people to feel psychologically safe and feel valued.
Five inclusive behaviours which help are, Growth Mindset, Empathy, Collaboration, Curiosity and Resilience.
Given the average employee retention is now 2.8 years (down from 4.2), knowledge transfer and succession planning are featuring strongly in highly effective organisations.
Attention spans are just 4 minutes – I've already said too much! - meaning further changes to expectations of the workplace, and indeed changes to our marketing outputs & event formats need to be considered.
The '1 to 1' meeting model – what did we learn?
The ability to drive meaningful meetings between buyers and sellers at scale create a whole new value and revenue model - something many organisers have strived for.
There is a need for a renewed registration model (a 10-minute process) capturing a wider demographic, and a system matching buyers and sellers.
Creating connections, a trusted environment, and matching expectations are all major players in the success story.
The investment in time and people is also high, with a long sales cycle and a 'concierge' approach to the meeting schedule is needed to increase success rate.
With this approach, events which cater for job functions, across multiple business sectors are possible, and by limiting the number of buyers and sponsors, profitable products are possible.
Given the extensive knowledge acquired at the registration stage, curated engagement is possible outside of the event cycle, and it has been possible to evolve the model to create additional high value meetings throughout the year.
The learning did not stop there but reflecting on my earlier point about attention spans, I'll wrap it up. We look forward to welcoming CEOs back to the AEO International Summit next year.