11 Jun 2020
Case study: maximising engagement through COVID-19 and beyond
Challenges faced in the wake of a pandemic
March 2020 seems a long time ago now. Looking back I think that the overall feeling from the business (and I am sure many share this) was that this whole thing will be short and sharp and we will be back to business by the start of summer.
In the early stage, it was a very sudden change in the mood of the country – you could almost see the shutters coming down from mid-March. As soon as the PM addressed the nation, the mindset changed. At that point, the selling of tickets to B2C events practically stopped and we had a dilemma in continuing to communicate to customers, whilst at the same time not knowing whether the events would go ahead in the existing timeframes.
It became a huge challenge but at the same time going to any event, going anywhere was not a priority for people. Live events were as far from people's minds as could be possible, so our messaging had to change shape.
Addressing those challenges
The obvious thing to do was to reduce the frequency and alter the tone of the messaging. We had the Ideal Home Show due to open on March 27th so that became a major challenge.
Firstly, we stopped talking about content or ticket sales. Comms switched entirely from macro to micro – deal with the realities and the people asking questions and don't worry so much about the fluffy stuff (not only was it irrelevant but was also insensitive).
Customers wanted simple answers on dates, safety measures and confirmation of a plan. Fortunately, we have always extolled the virtues of crisis management procedures in the business so knew what to do and when – who should communicate, what tone of voice, how rigid should the messaging be, etc. This is crucial for all event organisers - don't have too many people let loose on the comms – stick to the prescriptive lines, answer robustly and confidently and with empathy.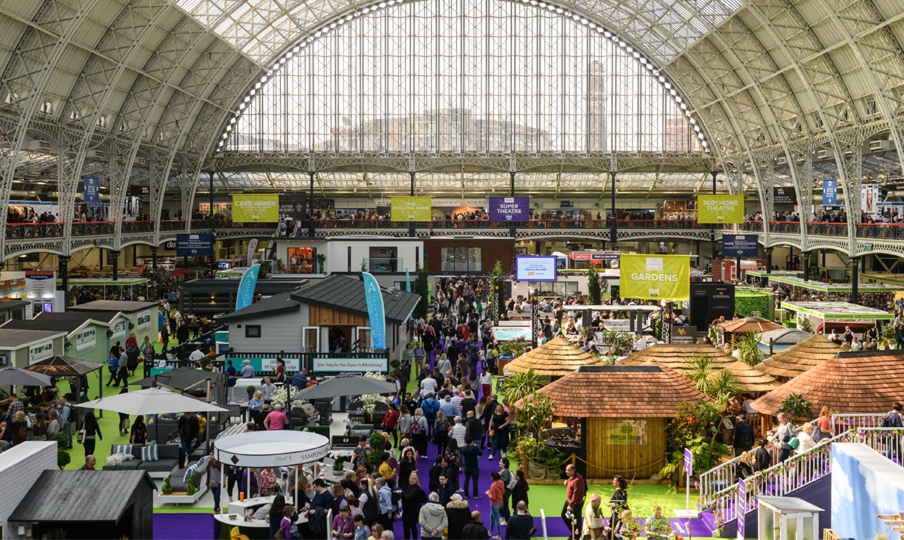 Maintaining engagement
A lot has happened in the last months and from the early tactics aforementioned we have built up a good relationship with our customers. After people started to realise that this was not a short-term issue, we started to communicate with them a bit more – started to offer them content (how-to videos, for instance) just so we could keep in touch, nothing hard-sell, the early days were brutal for everyone so offering people content they'd find engaging was the methodology.
Since it all started, we have seen engagement increase, subscribers increase and e-commerce increase. On the B2B side, we have used webinars as an engagement tool, but also as a method of increasing data pots for our events. For B2C we have been active with livestreams (e.g. Grand Designs from Home – as series of interviews with the likes of Kevin McCloud), competitions (e.g. Cake or Bake of the week for the baking event we run). It is light touch, professional engagement that serves a purpose.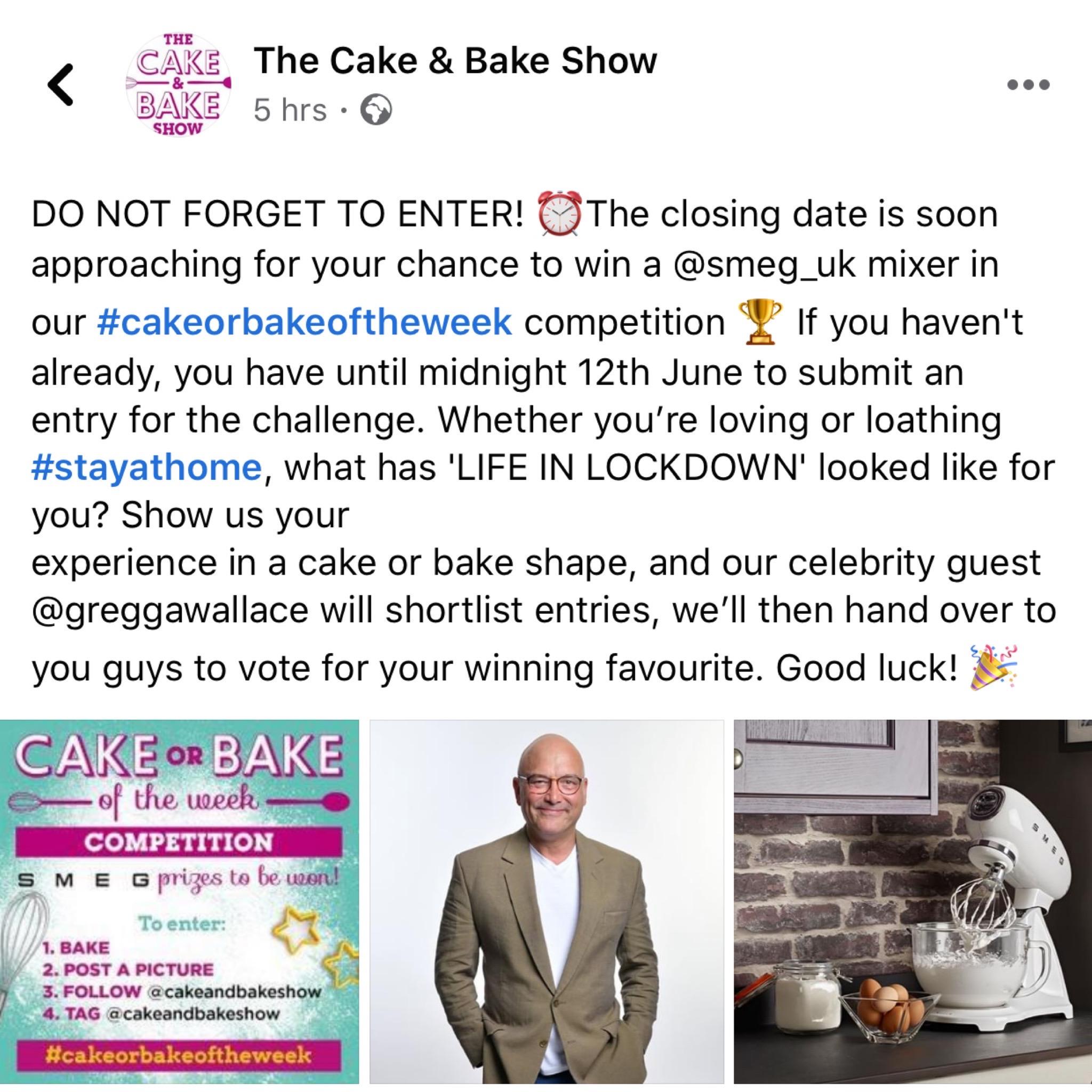 Success and revelations
We regard success as not just 'spinning the wheels'. For instance, did that webinar increase sign-ups for the brand, did the cake competition add followers to the social media feeds, did the livestream get sponsored, etc.?
It is all about marginal gains and the realisation that this pandemic has changed the way we operate – it has allowed marketers to utilise their skills of engagement to ensure that everything they do is joined up, and the live event (whenever that might be) is just another part of their armoury.
The long game
New forms of engagement have always been part of our strategy. The pandemic has forced everyone to think differently. As I mentioned earlier – event organisers should realise now how powerful they are. It is time to stop thinking about events but thinking about data and how we leverage that data to generate revenue; with live events being just one component. Event organisers should now be thinking "we are data businesses who happen to run events".
Monetising digital content
For a long while now it has been a bugbear that events close their doors and the "thanks for attending" notice goes on the website and we forget about the exhibition until 6 months later when we start the cycle all over again. I am being a generalist here! So, how to adapt – well, as I keep harping on, the events should be one part of the puzzle; what about news, what about directories, e-commerce, product reviews…this is for B2B and B2C.
If you have an audience attracted to an event, surely they are more interested in just the event. Why wouldn't they be interested in news on that sector, seeing the latest products, buying at the best price, and seeing stockists in the market? Instead of engagement flatlining, use the data to encapsulate the audience.
So, I'm interested in tree frogs (I'm not, but bear with me) - where can I get the latest tree frog news, where can I buy the latest equipment for my tree frog, who stocks the best range of tree frog apparatus, where would I see videos about tree frogs, etc?
Well, if Tree Frogs Live stops just being a website about 3 days at the NEC and changes its thinking, then it opens up a world of opportunities.
We have seen incredible success with monetising our news portals and engagement tools – but this is the start; we have big plans for the rest of the year and it's exciting.
Added value
As I have said, the brand becomes more than an event – it becomes the hub for everything in that sector – so you need the smartest, most hard-working sales and marketing teams to change perceptions, away from selling and marketing square metres - and then you sell solutions rather than shell scheme packages.
Advice for other organisers looking to bridge the gap with digital
Organisers need to be brave – sticking to the trusted formula of event-only is currently not working. Also, don't just go for the easy wins – yes, webinars are useful and shows that you have been keeping busy…but go and re-look at what you can do in the world of news, e-commerce, directories, etc, right now whilst we wait for the world to turn the right way again. It's not easy as you need visionaries – don't accept second best and clear your mind of what the norm has been and think about the new norm.
Top tips
Firstly, don't accept that spending all day on Zoom is justifiable. Secondly, look at your market, think about the opportunities that are being missed and how they can be tackled, and thirdly, come and speak to me.