06 Oct 2023
Leading Summit for global event organisers cements Singapore's position as a top industry destination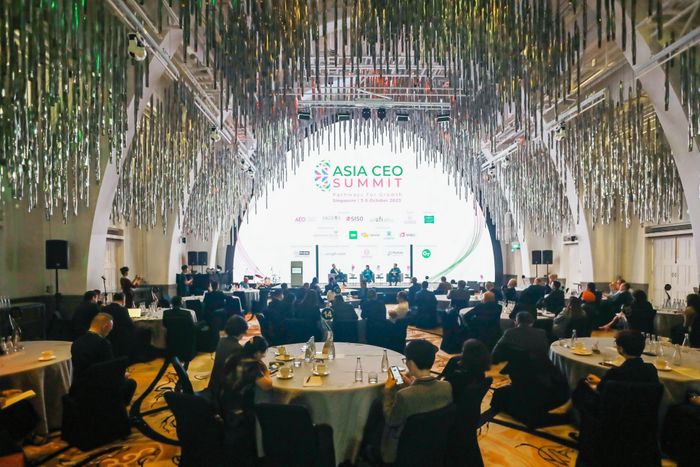 Top executives of the world's leading business events organisers convened at the Asia CEO Summit on 3-5 October 2023 at JW Marriott Singapore South Beach to discuss the best ways forward in investing and bringing high-quality conferences, trade shows, and exhibitions to meet the demand of Asian businesses.
The most influential annual gathering of global industry leaders in the region reflects the confidence and positive outlook in the economic growth of Southeast Asia where the business events industry is fully reopened and well positioned to recover towards pre-pandemic levels and beyond.
Co-organised by the Association of Event Organisers (AEO), Singapore Association of Convention & Exhibition Organisers & Suppliers (SACEOS), Society for Independent Show Organisers (SISO) and UFI, The Global Association of the Exhibition Industry, the premier business event attracts high-profile attendees, facilitates collaboration, exchange of ideas among business leaders, and promotes the region's economic growth and development.
Among the leading global event organisers in attendance at the Asia CEO Summit are Informa Markets, RX, Clarion Events, Comexposium, and Messe Düsseldorf. The event also welcomed industry players from China to explore opportunities to strengthen business collaboration and presence in the region.
The three-day in-person summit facilitates high-level thought leadership panel discussions by global industry experts on hot industry topics such as recovery and growth in Asia and beyond, impact of China's reopening, India market entrance strategies and growth opportunities, and sustainability development in the exhibition industry.
Matthew Butler, Chair, AEO, said: "We are delighted to see the Asia CEO summit return to Singapore for its second iteration. Conceived prior to the pandemic, the timing is perfect as
we see such interest and activity across the region. Connecting leaders from across the world to explore opportunities and hear the latest trends, continues to be fundamental for the event which we see in action over the next few days."
Richard Ireland, President, SACEOS, said: "The demand for business events in Southeast Asia is stronger than it has ever been as large-scale international events like conferences, exhibitions, and trade shows continue to make a resounding comeback. More than ever, global businesses are looking to capture the exciting growth opportunities in the region. Situated at the confluence of the world's most populous nations, Singapore is well-positioned as the gateway to a fast-growing market in Southeast Asia. The strong lineup and success of business events in Singapore is a testament to its long-standing position as the choice destination for businesses to grow their presence in the region. And the Asia CEO Summit reflects the confidence and commitment of global event organisers in bringing more business events to the region."
Mary Larkin, Chair, SISO, said: "The Asia CEO Summit in its second year is an important opportunity for global leaders in our industry to discuss issues specific to Asia. The summit provides insight into growth opportunities in the region and the learnings have global implications and applications."
Michael Duck, President, UFI, said: "When it matters, people meet. This is true for every industry the events sector serves with trade shows and conferences. The Asia CEO Summit is an excellent opportunity for the leaders of our own industry to come together – from across Asia and beyond. UFI is pleased to be a partner in putting this important event together."