29 Jan 2019
AEO Forums Hits the Spot for Event Industry Leaders of Tomorrow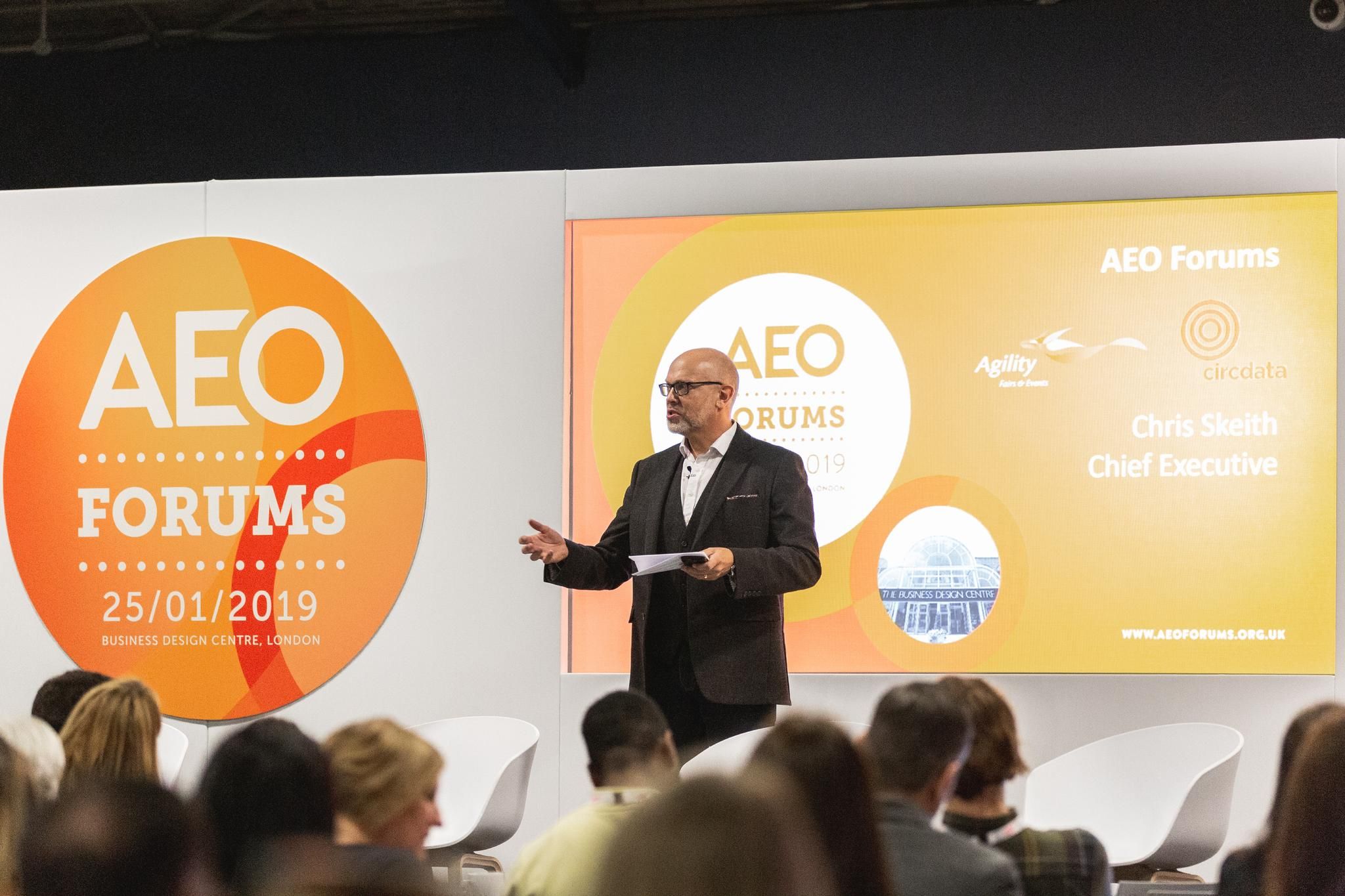 AEO Forums Hits the Spot for Event Industry Leaders of Tomorrow
This year's AEO Forums delivered a holistic mix of intellectual stimulation, social networking, physical health and emotional wellbeing to over 310 industry professionals spanning marketing, operations and sales. Held at BDC London, the AEO Forums brought together 94 businesses from across the events industry.
Chris Skeith, chief executive of AEO, says: The keynote, Karen Blackett from Mediacom, set the tone for the day with an enthralling presentation about Understanding the Customer in Modern Britain and the importance of trust, credibility, reliability, empathy, self- orientation and congruence. All things we like to think we have in spades at the AEO.â€'
The tailored marketing, operations and sales programmes were sandwiched between two fantastic keynotes where everyone came together in one room. The speakers engaged with the audience and ensured the energy was kept high. Each stream involved an interactive health and wellbeing session as well as practical sessions on pay per click, copywriting, prospecting, sustainability and having a positive mindset. There was also a cyber security awareness session which was designed to provide members with enough information so that they could minimise risk in their businesses and at their next event.
Chris continues: "Lee Warren's closing keynote was the icing on the cake. It was the end of a busy day but everyone in the room got involved in Lee's persuasion techniques, it was a fantastic way to lead into the networking drinks.â€'
Here is some of the feedback received from this year's delegates:
"I really enjoyed the speakers who specifically benefited my work i.e. marketing techniques and tips as well as the speakers who I felt could help my general working practices i.e. improving my wellbeing at work and learning how to be more persuasive."
"The copywriting session in particular was standout and I felt like there were lots of takeaways not only for me but for my team who were also in attendance."
"I'm going to begin practising mindful breathing and attempt to be more active at work. I'm also going to look into the digital techniques including Facebook custom audiences to advertise more to previous visitors of our events in this way rather than just through direct email."
"Gavin and Lee were both excellent, loved their talks and also enjoyed that they were interactive."
"I thought the content was great, felt like I walked away having learnt something."
"LOVED the wellbeing workshop by Point3. We have already had the whole office up on their feet for 60seconds of squats!"
"The Sustainability panel was really interesting and there were ideas that I would wish to implement in our exhibitions to work towards a more sustainable event."