15 Feb 2022
AEO Forums delivers its 2022 edition - Reset: A new chapter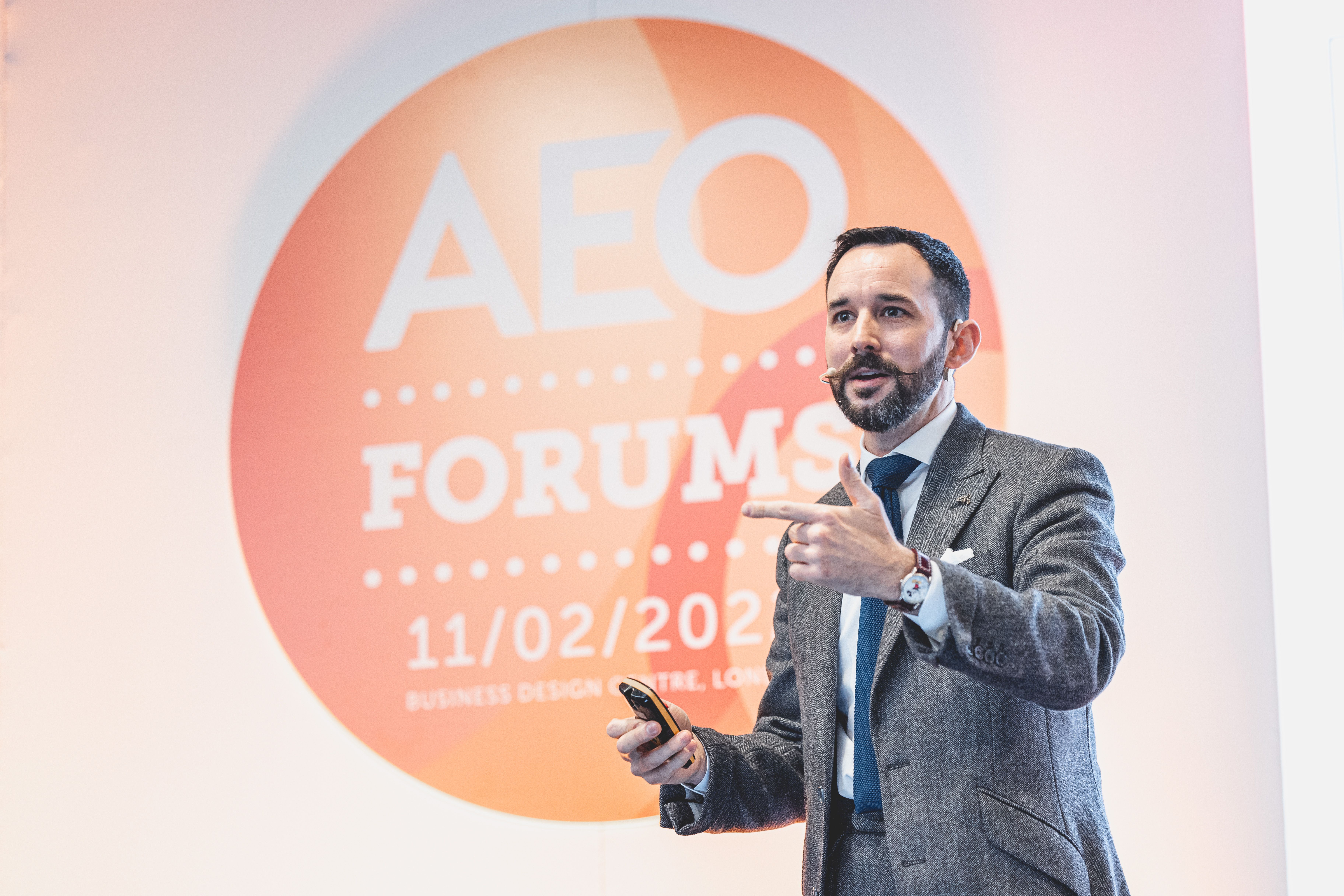 The AEO Forums 2022 attracted more than 250 event professionals to the Business Design Centre on the 11th of February. 
Following a jump from 2020 to 2022, industry professionals arrived at the forums eager to learn more about how to navigate their roles as the events industry awakens to  'A NEW CHAPTER', with Julia Danmeri from TranslateAble chairing the ops stream, Rob Nathan from Media 10 Ltd, the marketing stream and Greg Sewell, from Clarion Events, the sales stream.
In line with the theme; RESET: A NEW CHAPTER, Jez Rose, inspirational keynote set the tone with his high energy presentation on 'Changing the way we think about change'. Jez's core message was about giving in to our natural resistance against change and embracing it to be better. By asking more questions about where we are, and why we are there; we can help ourselves to move through each period of change. The two he encouraged most often were: "Why do we do it this way?â€', and "How do we make it better?â€'.
Darren Johnson, business adviser b2b media, events and business services and overall AEO Forums chair said: "Having a forum to share our collective experience and learn from each other is so important as we look to restart our industry, and this year the AEO forums provided exactly that. The content was well received across all streams and the panel discussion format was conversational and engaging. It was great to see a lot of new faces sharing their experiences – it really did underline both the growing collaboration we see across Sales, Marketing and Operations, and the fresh thinking being developed in everything from sustainability to what makes a great sales team. Momentum is growing for the year ahead!â€'
Some of the learnings that came out of the ops stream focussed on the importance of using your network and utilising your resources for mentorship and relationships. The stream also discussed the challenges suppliers have been up against and how better to support them.
Interesting revelations came out of the sales stream too. When discussing the 'Great Resignation', polls highlighted that staff were less likely to move for more money if they had a clear career path, more empathy and more attention.
The marketing stream looked at the need to reset pre-pandemic expectations with an emphasis on quality customers over quantity. Speakers also discussed how central the marketing function was to the business, with marketers encouraged to be bold and speak up – particularly at the decision-making table.
The AEO also featured important topics like diversity & inclusion and sustainability on the programme as it looks to make huge strides on these topics over the coming year.
Below is some of the feedback received from this year's delegates:
I thought Jez and Jim were really interesting and very engaging presenters
Varied and inspiring content
I liked the variety of speakers and it was very relevant for today's world
I was impressed with the sessions - better than I expected and the content was good across the board