05 Oct 2023
AEO FORUMS 2024 LAUNCHES WITH "THE POWER IN YOU" THEME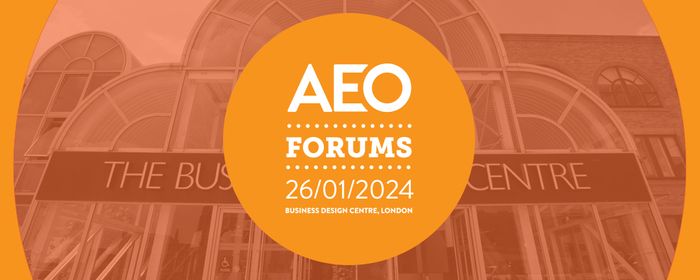 The Association of Event Organisers (AEO) in association with headline sponsors Aztec Event Services and Whitespace Group, is delighted to announce the launch of the AEO Forums 2024, scheduled to take place at the BDC London on Friday, 26th of January 2024.
With a rich history dating back to its inaugural event in 2006, the AEO Forums continues to be the must attend event for middle-of-the-building event professionals across marketing, operations, and sales functions.
The AEO Forums theme "The power in you" is all about helping attendees unlock their potential, providing tools and knowledge for personal growth.
The event offers a unique opportunity to share experiences, acquire knowledge, and prepare for the year ahead.
Leading and shaping the programmes for the respective event streams are the following AEO members and industry experts:
Jessica Hockman, marketing director at Informa Markets: Chairing the marketing stream.
Kerrie Kemp, global programme delivery manager (Better Stands): Chairing the ops stream.
Alison Willis, divisional managing director from Easyfairs: Chairing the sales stream.
The programmes will encompass a wide variety of topics, including AI, coaching, copywriting, sustainability, security, high performing teams and more.
Chris Skeith OBE, chief executive at AEO, said, "We all understand the importance of content. The great thing about the AEO Forums is that it is shaped by members who live and breathe marketing, ops and sales and understand the challenges and needs of those functions at their core.
This is a fantastic opportunity for event professionals to come together with their peers, make some new connections, learn from the speakers and each other, and have a good time. We have an exciting day planned and look forward to welcoming attendees to the BDC in January!"
AEO Forums 2024 extends a warm invitation to AEO members, AEV and ESSA members, as well as non-members. Ticket rates are as follows:
AEO members/sponsors and partners: £229 + VAT
AEV and ESSA Members: £329 + VAT
Non-members: £1749 + VAT
For further information and registration details, please visit https://www.aeoforums.org.uk/
Please note that the AEO People's Awards takes place on the evening of the AEO Forums. As such, we also have packaged rates as follows:
AEO members/sponsors and partners: £379 + VAT
AEV and ESSA Members: £479 + VAT
Non-members: £2249 + VAT
For further information and registration details, please visit https://www.aeopeoplesawards.org.uk/
For sponsorship opportunities, please contact Sarah Scott: sarah@aeo.org.uk