05 Nov 2019
AEO FORUMS 2020 LAUNCHES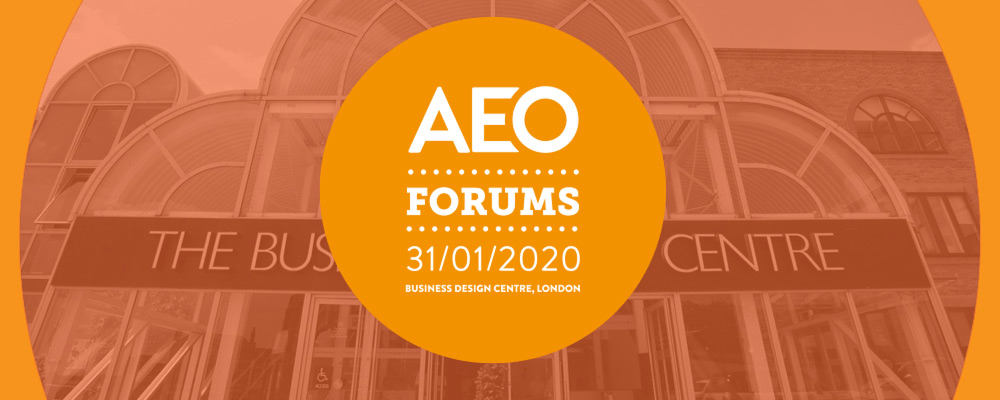 The AEO has launched its AEO Forums, which will take place at BDC London on Friday 31st January 2020.
Having launched in 2006, the Forums continue to focus on delivering content and learning for middle of the building event professionals across key functions within organiser businesses.
The theme "Work smarter, not harderâ€', will take a look at the pressures event professionals face, help them build resilience and rethink their daily practice in a way that can maximise effectiveness and minimise stress sustainably.
Sessions will be tailored to the marketing, operations and sales functions, and focus on exercising greater efficiency in key areas such as, sustainability, technology, copywriting, cross-function working and more.
The programme kicks off with a keynote from, Nalan Emre, COO of IMEX Group – a company driven by one of its five goals to "work smarter, not harderâ€'.
Emre will share how paramount this goal has been to achieve a top 10 rated sustainability show in the USA and what marketing, ops and sales professionals can learn from it.  
Chris Skeith, CEO at AEO says: "We're very excited about how our next AEO Forums can help support event professionals in their roles. Our numerous working groups have identified their key challenges and helped craft a multi-stream programme to begin to address these.â€'
Skeith added; "Just like our members, we're no strangers to working at pace, and while the industry is an exciting and hugely rewarding place to be,  more resource isn't always a feasible option. We need to take a closer look at how we can work smarter and support our teams in building resilience and fresh approaches.â€'
Chris Clipston, managing director of headline sponsor Circdata, says: "We love the AEO Forums! It is such a good opportunity to catch up with the sales, operations and marketing teams who work tirelessly to improve their shows year on year. The agenda always offers a varied selection of sessions, and this year promises to be even better! We are delighted to return as a headline sponsor of the must-attend event in event professionals' diaries. See you there!"
Garcia Newell, business development director, from headline sponsor Agility Fairs & Events, says: "The AEO Forums provides a perfect platform to start the New Year, with its mixture of thought-provoking content, networking opportunities, discussion and most of all tips to help strengthen your business. Agility is delighted to be headline sponsors of this premium industry event.â€'
The marketing stream will be chaired by Caitlin Read, communications director from Comexposium, the ops stream by Matt Wozniak, operations director from Telegraph Events and sales stream by Carly Walker, sales director from Forum Events.
The AEO Forums is open to AEO, AEV and ESSA members at a reduced ticket price of £212 + VAT.  The non-member rate to attend each Forum is £424 + VAT.