22 Jun 2023
AEO EXCELLENCE AWARDS CELEBRATES 28 WINNERS AT SELLOUT EVENT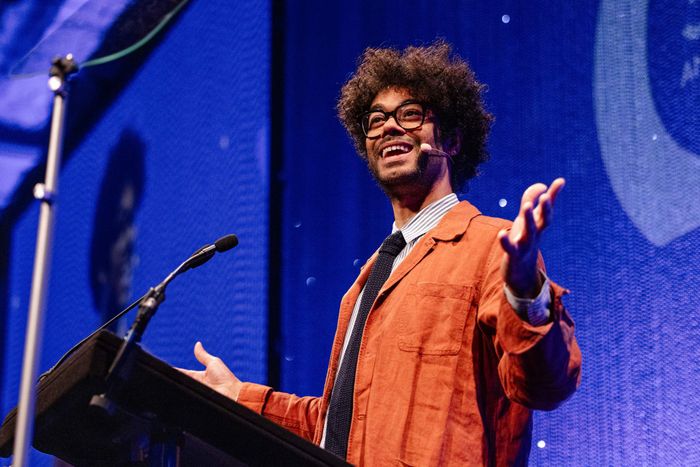 Headline sponsors: Circdata, GES, the NEC Birmingham
AEO celebrated its 30th AEO Excellence Awards on Friday the 16th of June at Grosvenor House.
The sellout event delivered an afternoon of celebration as 28 winners took to the stage to collect their trophy from celebrity host, Richard Ayoade.
The event gave a nod to its momentous milestone with a nostalgic 90s band, quiz, and arcade, as some attendees weaved in a touch of 90s to their outfits.
Doug Emslie was awarded the Outstanding Contribution Award as the industry recognised him as a person of integrity, commitment, and exceptional talent. His ability to juggle multiple responsibilities, grow Tarsus, and lead influential organisations such as AEO and SISO have left many in awe. The following video was created by Emslie's peers on why they felt he was so deserving of this award: https://www.youtube.com/watch?v=ZPfaXUz_VhU
Chris Skeith OBE, chief executive of the AEO said: "We were honoured to have shared this milestone with the remarkable talent of this industry – and to have sold out a week before – just speechless! A sure-fire sign that the industry is on an exciting path to growth and recovery."
"I'd like to thank the industry and non industry judges, third party judging partner, sponsors, partners, members and the AEO team for their continued support in delivering truly valuable industry events. And finally – huge congratulations to the winners! With a record-breaking number of entries this year, competition was tougher than ever – an extraordinary achievement."
Congratulations went to Megan Scott from Imago Techmedia who won the NEC prize draw to win Ticket Factory Vouchers and to Felicia Asiedu from Cvent who won a bottle of champagne after winning the AEO 90s Quiz.
AEO Excellence Awards Judges' comments about the winners:
OUTSTANDING CONTRIBUTION TO THE INDUSTRY
Doug Emslie – nominated by the AEO Council.

The AEO Council described Doug as a visionary leader, guiding Tarsus to unprecedented success, with an undeniable impact on the industry. They added that Doug is a true champion of the events industry, driving solid growth and advocacy.
MARKETING CAMPAIGN OF THE YEAR - TRADE SHOW UK
Easyfairs (Futurebuild) – Take a Stand
Easyfairs Futurebuild marketing campaign, 'Take a Stand' - focussed on propelling the build environment industry towards a more sustainable future.
The judges commented on the successful and innovative campaign with very worthy goals – focussed on leaving a legacy and elevating the show and industry towards a more sustainable future.
MARKETING CAMPAIGN OF THE YEAR - TRADE SHOW INTERNATIONAL
Informa Markets Middle East – Middle East Energy 2023
Informa Markets Middle East Energy is an energy exhibition which connects energy buyers and sellers. The judges were impressed by the ambitious campaign and strong strategic evidence. They demonstrated an excellent understanding of their audience and tailored digital campaigns, which resulted in high conversion rates.
MARKETING CAMPAIGN OF THE YEAR - CONSUMER SHOW
Media 10 – Ideal Home Show 2023
Media 10's Ideal Home Show is the UK's biggest consumer show, bringing together over 600 brands as well as full scale show homes. Judges commented on the immense achievement of the marketing campaign which supported this successful consumer show. It attracted a phenomenal volume of visitors over the 17-day event.
BEST EVENT LAUNCH UK
Road Transport Media (part of DVV Media) – Road Transport Expo
The Road Transport Expo is an industry leading tradeshow for the HGV sector which had a dedicated 'all about the truck' focus. The judges said that this was an excellent show, with outstanding metrics all round. The results demonstrated an exceptional audience experience along with excellent financial results.
BEST EVENT LAUNCH INTERNATIONAL
Angus Montgomery – ART SG
ART SG is part of the Art Assembly, an affiliation of international art fairs in Asia Pacific – it is the biggest ever art fair in Southeast Asia and the biggest art fair launched in Asia Pacific in a decade. The judges commented on the excellent metrics, and how the team overcame many challenges before the launch. They successfully exceeded their targets, with excellent outcomes across the board.
BEST CONFERENCE UK
Ascend Global Media – Women of Silicon Roundabout
The Women of Silicon Roundabout event in London, facilitates equality and progress for the global community of women working in tech.
The judges were exceptionally impressed with the conference's success in building a community of like-minded women in tech, whilst highlighting the impact of gender diversity in the tech industry.
BEST CONFERENCE INTERNATIONAL
Tahaluf – LEAP
LEAP brings together the global tech community to learn, engage, network, and discover the latest technological developments.
The judges said this was a real showcase delivery with big names. They exceeded their key milestones in delivery and execution, delivering to a gender balanced audience and leaning into technology focussed feature elements – it was an engaging and well delivered conference.
BEST INTERNATIONAL SHOW – EUROPE
Easyfairs - Paris Packaging Week
Paris Packaging Week is made up of four co-located events that connect packaging innovation and design professionals with packaging suppliers. The judges said the show was impressive on every level, especially noting how the team turned around a bigger and better show in 6 ½ months. Their creative marketing and sales strategies were clever and increased visitor numbers.
BEST INTERNATIONAL SHOW – AMERICAS
Oliver Kinross – New York Build
New York Build is the leading and largest construction and design show for New York and the Tri-state area.
The judges remarked on how this was an excellent example of a trade show taking the concept of festivalisation to the next level, engaging the audience and stakeholders with genuinely exciting high-quality content, whilst embracing the destination appeal of its host city.
BEST INTERNATIONAL SHOW - MIDDLE EAST & AFRICA
Tahaluf – LEAP
LEAP brings together the global tech community to learn, engage, network, and discover the latest technological developments. The judges said this was such an impressive show, with strong visitor numbers, excellent customer outcomes and engagement from across many countries. They challenged the pre-conceptions and exceeded expectations.
BEST INTERNATIONAL SHOW - ASIA-PACIFIC
Tarsus Group – TyreXpo Asia 2023
TyreXpo Asia is an international tyre trade event in South East Asia.
The judges were really impressed with the success of this event and how they breathed new life into an old event, putting in a lot of hard work, research and planning to refresh the show, with impressive results.
BEST DEI INITIATIVE
RX – Building a culture of DEI at RX
In 2021 RX began putting in place a solid foundation to build a more diverse, equitable and inclusive company.
The judges praised the company wide, broad DEI initiative which shows their strength of cultural change and inclusion. Theirs is a great example of positive change and RX clearly demonstrated this with numerous initiatives across all their events and staff. Exceptional effort!
ORGANISER TEAM OF THE YEAR
Tahaluf – Black Hat MEA Team
The Tahaluf event organiser team delivered Black Hat Middle East and Africa, successfully launching in a new region. The judges praised the team's fantastic work, whilst overcoming a series of operational and logistical challenges – delivering an extremely high-quality event which exceeded expectations. A committed team who went above and beyond to achieve theirs and their stakeholders' objectives.
VENUE TEAM OF THE YEAR
RAI Amsterdam – Project team MONEY20/20
RAI Amsterdam were recognised as the venue team of the year for their work with MONEY20/20 – assisting with the organisation of the event and helping to transform the traditional event format into an exhibition, festival, and conference, all in one.
The judges said RAI Amsterdam demonstrated excellent passion, creativity and innovation by going over and above as a venue, working in true partnership with their client to create a festival format – this case study demonstrated what they do best for all of their clients – a great example of creating a positive venue experience for visitors.
SUPPLIER TEAM OF THE YEAR
ASP
ASP design, build and support exhibition organiser websites around the world. The judges commented on their excellent customer centric approach - always delivering the best possible service. ASP add real value for their clients, their SEO trained staff advise and support event marketers – and this resulted in an amazing year for both new and repeat business.
SERVICE SUPPLIER OF THE YEAR
ASP
ASP design, build and support exhibition websites around the world. The judges were impressed with how they demonstrated added value – they really do go above and beyond to deliver the very best services for their clients.
BEST CONSUMER SHOW
Immediate Live – MOVE IT 2023
MOVE IT is the world's largest dance exhibition.
The judges commented on the great team work to engage the audience at a show where interaction is key. There was a clear demonstration of growth in all areas with an excellent focus on new revenue streams and community inclusivity - amazing visitor growth figures and fantastic customer outcomes!
BEST UK TRADESHOW less than 2,000SQM
Clarion Events – DTX: Manchester Tech Week
DTX: Manchester Tech Week is a co-location of Clarion Events UCX, Workplace Tech event alongside DTX & partnership with Terrapin's Connected North. The judges were really impressed with the innovative collaborations, and partnership between competing events to deliver the biggest showcase of world leading technology brands to The North. The outcomes were impressive, with high customer satisfaction for both visitors and sponsorship clients.
BEST UK TRADESHOW between 2,001SQM - 4,000SQM
Oliver Kinross Ltd – London Build
London Build is the leading construction & design show in the UK.
The judges said that this was a fantastic show demonstrating innovation at its best, they created a festival approach which engages both exhibitors and visitors, with a focus on inclusion and sustainability.
BEST UK TRADESHOW between 4,001SQM - 8,000SQM
CloserStill Media – Care Show
Care Show is the largest show in the UK dedicated to care managers. The judges commented on the strong show results and how the organisers thought about the audience and created a show with some heart to it which was well embraced by the exhibitors and audience.
BEST UK TRADESHOW more than 8,000SQM
Hyve Group – Glee
Glee is the meeting place for the garden industry. The judges were impressed by the fantastic results and the show's bold move to change the date, which paid dividends enabling for a bigger win of the market share.
VENUE OF THE YEAR - less than 20,000sqm
The ACC Liverpool Group – ACC Liverpool
ACC Liverpool is part of Liverpool's event campus, encompassing three interconnected venues on the banks of the city's world-famous waterfront: Exhibition Centre Liverpool, ACC Convention Centre and M&S Bank Arena.
The judges commented on the very strong offer to the venue's clients, its investment in tech and focus on data and its transparent measurement around sustainability make this a standout venue.
VENUE OF THE YEAR - more than 20,000sqm
NEC Birmingham
The National Exhibition Centre Birmingham impressed judges with its variety and range of events held at the venue. Their demonstration of customer loyalty, client satisfaction and charitable support is outstanding, whilst delivering impressive results is commendable.
UNSUNG HERO
dmg events – Alexandra Brlajova
dmg events Alex Brlajova delivered 5 international events within 6 months, across 3 continents, with 2 of these running for the first time in person. The judges said Alex is the cream of the crop - extremely hard working, she dealt with a range of challenging circumstances to deliver excellent events and results, which contributed to both cost savings and increased revenues.
BEST SUSTAINABILITY INITIATIVE AWARD
Messe Frankfurt Venue GmbH
The Messe Frankfurt Group is one of the world's leading trade fair, congress, and event organisers with their own exhibition grounds.
The judges praised the good work, excellent statistics and long-term projects which have put them ahead of the curve in sustainability.
TECHNOLOGY INNOVATION AWARD
FFAIR Ltd
FFAIR is an automated exhibitor manual and exhibitor shop platform for exhibition organisers, suppliers and exhibitors. The judges commented on the excellent benefits offered by FFAIR technology – saving organisers time, streamlining the operation processes, increasing exhibitor spend and offering a new revenue stream for organisers.
BEST COMPANY INITIATIVE
UK Black Business Show
The UK Black Business Show is a week-long conference for Black professionals, entrepreneurs, and allies of the Black community. The judges said it was an impressive initiative to provide a platform for Black entrepreneurs and professionals, the show demonstrated impressive growth rates for year two, along with providing positive impactful benefits for the Black community, raising employment, and learning opportunities.