11 Feb 2022
AEO Excellence Awards 22 Launches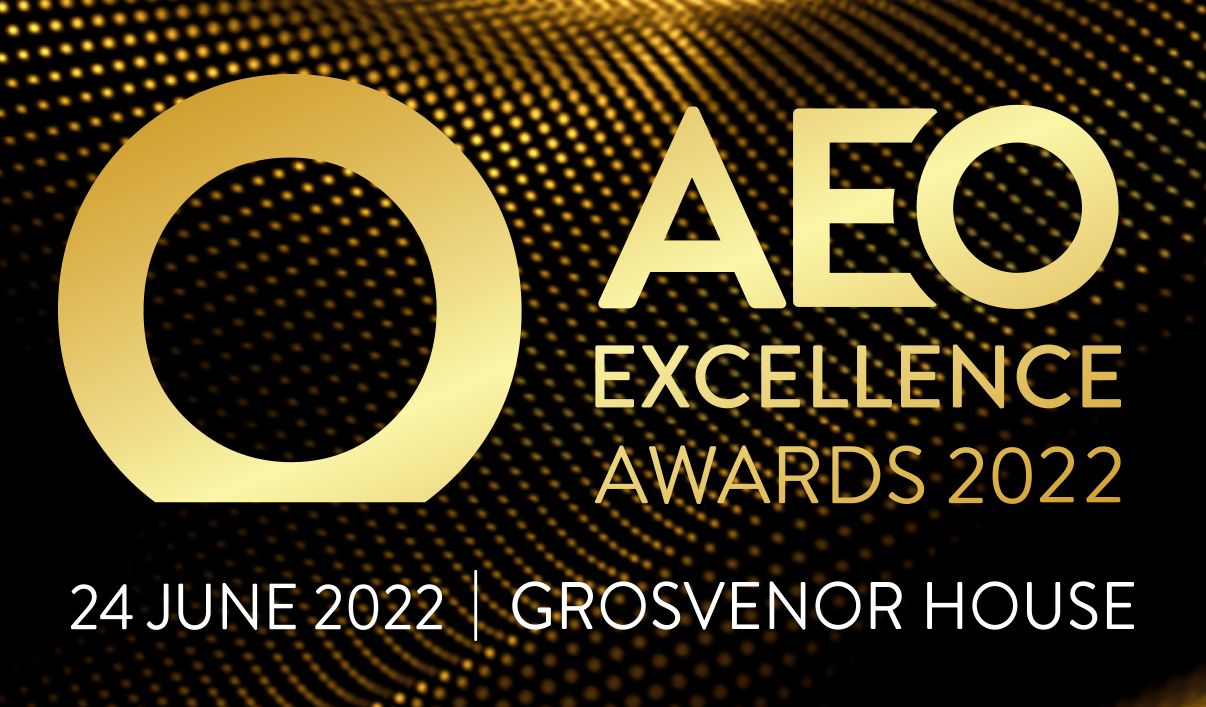 This year's AEO Excellence Awards takes place on the 24th June 2022, at Grosvenor House, Park Lane, London.
The event, which recognises and celebrates achievements from event organisers, venues and suppliers throughout the industry, will return to its live edition after pivoting to virtual in 2020.
Chris Skeith OBE, AEO chief executive, says: "We are thrilled to be running the AEO Excellence Awards again this year. While we were fortunate to celebrate some major industry achievements last year at the AEO Centenary Party, event professionals will be excited to see more familiar favourites on the list of categories, following a phenomenal fourth quarter in 2021. Additionally, we have reviewed the categories to reflect changes in the market and have introduced new editions such as; Sustainability Initiative Award, Technology Innovation Award, Best Company Initiative and Supplier Team of the Year.â€'
The list of categories to enter are as follows:
Outstanding Contribution to the Industry
Marketing Campaign of the Year – Trade Show
Marketing Campaign of the Year – Consumer Show
Best Event Launch
Best Conference
Best International Show – Europe
Best International Show – Americas
Best International Show – Middle East, Africa and Asia Pacific
Organiser Team of the Year
Venue Team of the Year
Supplier Team of the Year - new for 2022
Service Supplier of the Year
Best Consumer Show
Best UK Tradeshow <2ksqm
Best UK Tradeshow 2001-8000sqm
Best UK Tradeshow >8ksqm
Venue of the Year <20ksqm
Venue of the  Year >20ksqm
Unsung Hero
Sustainability Initiative Award - new for 2022Â 
Technology Innovation Award – new for 2022
Best Company Initiative - new for 2022
Skeith added: "The industry has endured a tough couple of years with event professionals demonstrating incredible resilience, hard work and dedication right the way through. They continue to do so in what is still a challenging climate. It is an honour to work among them and I can't wait to get together for a celebration and shine a light on their achievements.â€'
The AEO will be working closely with headline sponsors, Circdata and the NEC to bring attendees an unmissable experience.
Chris Clipston, managing director at Circdata, said: "Circdata continue to be proud to headline sponsor the AEO Excellence Awards. The AEO is a vital part of the events eco-system, providing an important voice for the industry which has never been needed more so than during the pandemic.  We look forward to seeing the shortlists in the coming months, and wish all entrants the best of luck!â€'
Kelly Haslehurst, NEC group marketing director for conventions and exhibitions said: "It is a privilege for the NEC to support the AEO Awards as a headline sponsor for the seventh year running. To say our industry has undergone a complex set of challenges in the past two years would be an understatement. We hope that 2022 will be the year the events sector can fully get back on its feet and look forward to celebrating its resilience, innovation and talent. It's time to showcase the incredible live events we all deliver together, as venues, organisers, suppliers and colleagues.â€'
 For further information on the awards and to submit your entries please visit www.aeoawards.org.
Deadline for entries is Thursday 31st March 2022.
Free to enter for AEO, AEV and ESSA members, or £499+VAT per entry for non-members. 
There are a number of sponsorship opportunities available for companies wishing to get involved. Please contact Sarah to find out more: sarah@aeo.org.uk