18 Jun 2019
AEO Excellence Awards 2019 – a sell-out event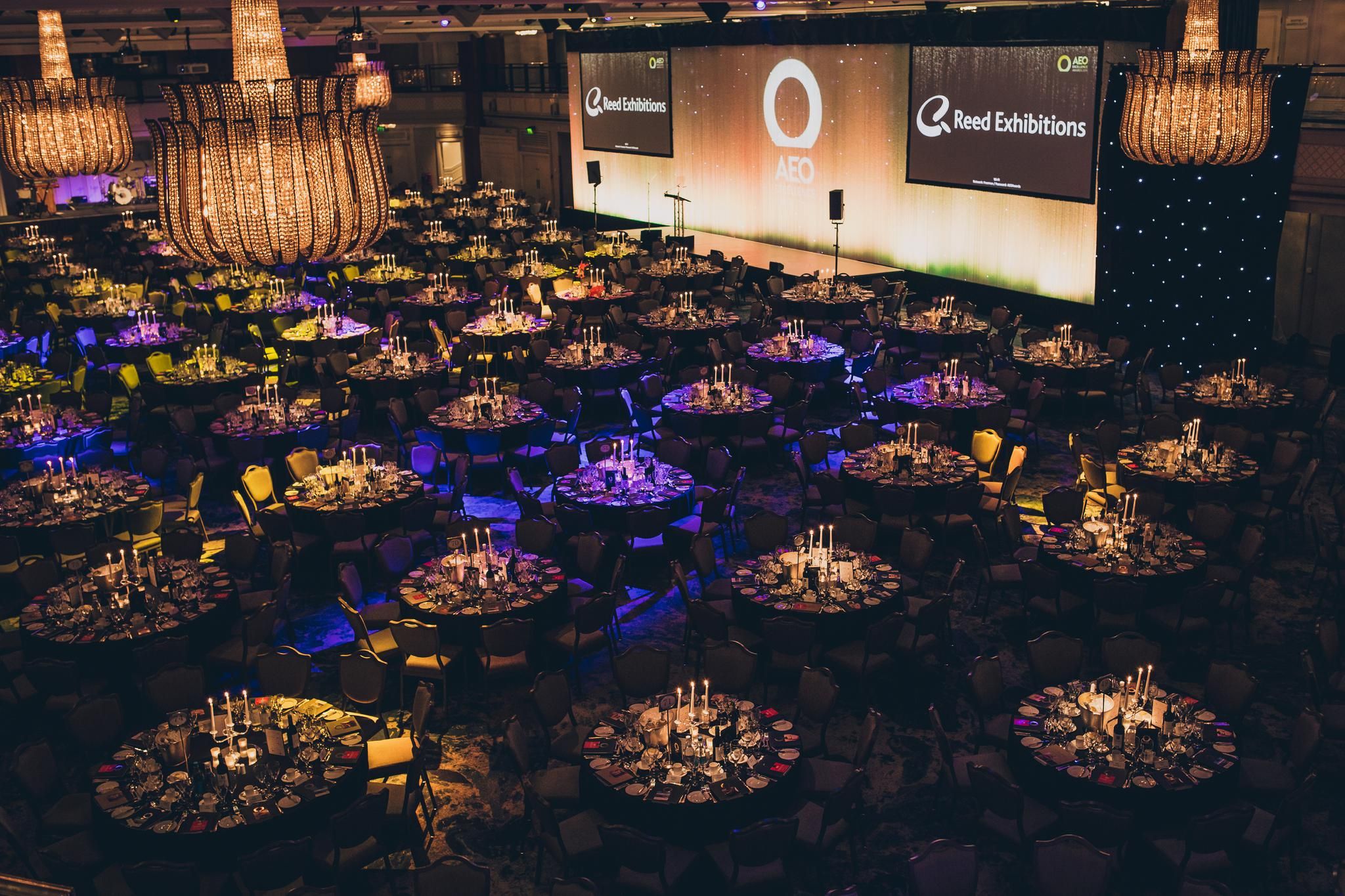 This year's AEO Excellence Awards was a sell-out event, seeing a record number of attendees flock to Grosvenor House Hotel, for a high-octane industry celebration.
Stephen Brooks was named as this year's Outstanding Contribution to the Industry winner, with members commenting on his; pioneering of geo cloning, support to the industry and association, and huge success as an independently owned, global exhibition business.
Taylor Goodridge delivered an energetic dance routine before Katherine Ryan, comedian and celebrity host, brought fun and laughter to the room ahead of presenting the awards. 
Chris Skeith, Chief Executive of AEO, says: "I always leave this event feeling so incredibly proud to be a part of this industry. A collection of truly worthy winners – congratulations once again, great entertainment and an exceptional atmosphere in the room. A sell-out event was just an added bonus and we hope our guests had as much fun as we did.â€'
Skeith added, "a huge thanks goes to our partners and sponsors. Putting on an event like this just wouldn't be possible without them.â€'
Other winners on the day included Reed Exhibitions and dmg events who both took home two awards and Closer Still Media who scored themselves three trophies for the Unsung Hero, Best UK Tradeshow less than 2,000sqm, and Best UK Tradeshow (2,000 - 8,000sqm) awards.
Here are some thoughts from the headline sponsors:

Chris Clipston, managing director at Circdata said: "An AEO Excellence Award is the one that everyone wants to win, so the quality of entries was incredible. The scheme demonstrates just how valuable the events industry is to the UK economy, and we are delighted to support the event as headline sponsor again. Congratulations to all of the companies and individuals on the shortlist this year, and thank you to everyone who got involved and sang their hearts out for the #TwerkwithCirc karaoke competition. See you all again in 2020!â€'
The winner of the #TwerkwithCirc competition was MCM Comic Con
Chris Preston, Managing Director Freeman EMEA, said: "We are proud partners of the AEO and once again supporters of the Excellence Awards for the seventh year running. It's always a fantastic event and an honour to be shortlisted next to the best of the best in the industry. Congratulations to all the winners and we look forward to seeing you all again next year.â€'
The winner of the Freeman, Predict the Winners competition was Tina Sutch from RCNI.
NEC Marketing Director, Martin Clarke said: "The annual AEO Awards is one of the industry's most prestigious and hotly anticipated events of the year, so it's been a great pleasure to be a headline sponsor for this year's event – congratulations to all winners and shortlisters.â€'
Clarke added, "In such a fast-paced industry, it's important we take time out to recognise our achievements, so it was great to see colleagues having fun with our #nectransform activations…some of the face-swaps were hilarious! We look forward to seeing everyone for more celebrations next year.â€'
The winner of the social media competition to win champagne for their table at the event was Amy Byrne from Clarion.
For full details of all of the winners and to see images from the day please visit the website www.aeoawards.org