13 Sep 2018
The AEO Conference talks tech…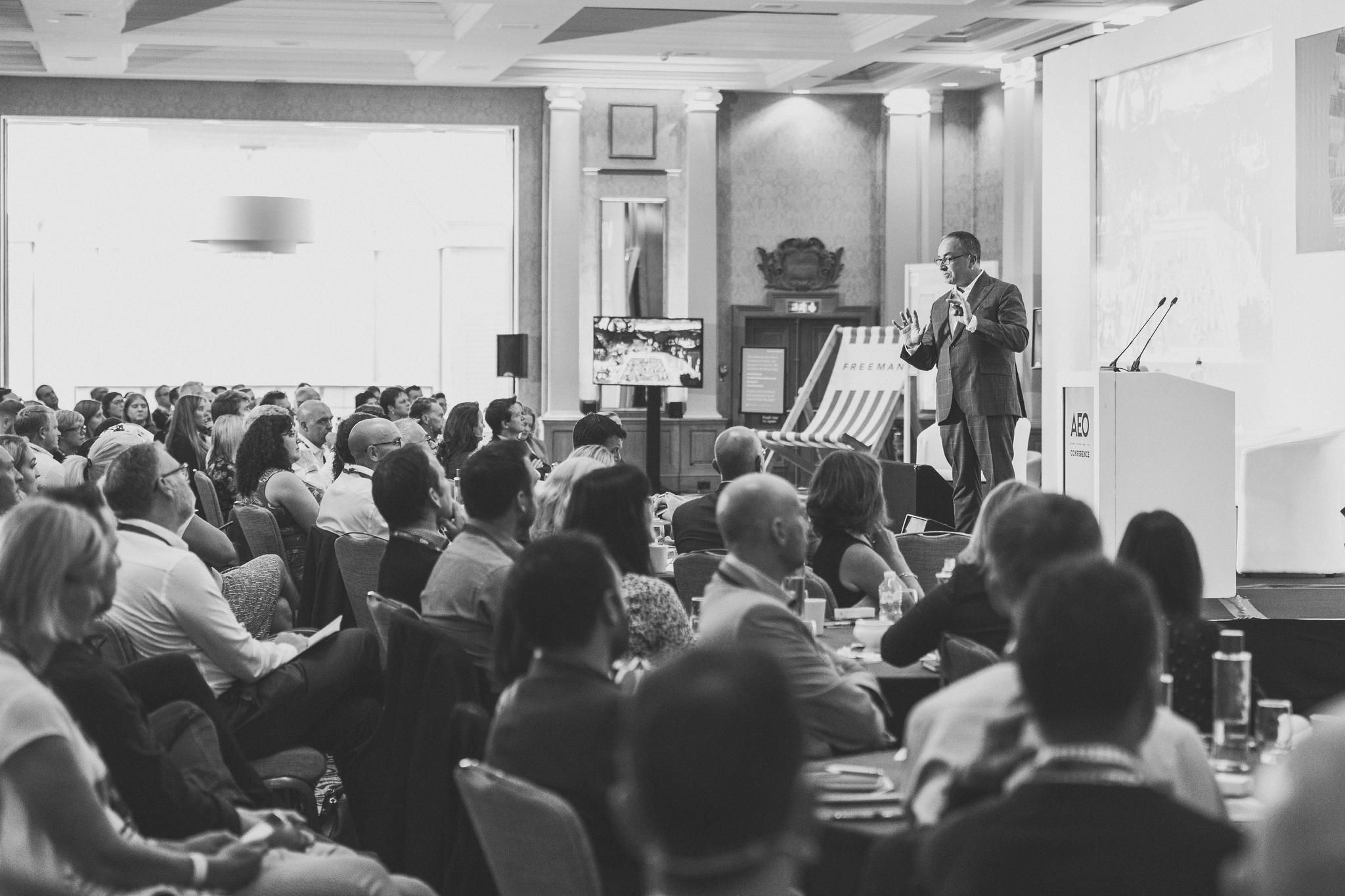 The AEO Conference returned to Brighton on 6-7 September, covering the theme; 'Technology – Artificial or Reality?'
The Grand Hotel in Brighton hosted 231 attendees, an overall increase in delegates of 13% and 31% more organisers than 2017.
The two-day conference was chaired by leading technology journalist and presenter, Georgie Barrat and delivered sessions that focussed on how technology can transform events for both events' professionals and their customers.
Keynote, Stephan Jung kickstarted the first day with an insightful session on mega-trends that will impact society over the next 10 years, with a particular focus on connectivity, mobility, individualism and community. He shed light on the diminishing lifeline of new companies, going from 75 years in 1955 to just 12 years in 2018.
This was followed by the System Reboot session, led by key members of the Business Technology and Innovation Group (BTIG). It took a look at the power of data and discussed a blueprint event organisers could use to link their internal systems to maximise efficiency and effectiveness.
Other sessions covered; using tech to adapt environments and create unique experiences, using AR imaginatively and utilising more affordable VR opportunities like Facebook spaces.
Chris Skeith, Chief Executive at AEO said; "The AEO Conference has always been a fantastic opportunity to draw together key industry players to learn, share ideas, network and have some fun. Georgie did a fantastic job of weaving it all together and helping us deliver that. A great couple of days down in Brighton!â€'
Some highlights that came through in the feedback were as follows:
 "I enjoyed the panel discussions and found the future tech conversations and examples really interesting. I enjoyed the treasure hunt session. It was great for networking and thinking about how tech can be used in a more fun way.â€'
"The balance of networking and education was spot on.â€'
"The venue was superb, the dinner also. Really enjoyed it. The panel focused on event launches was worth attending alone. The event was well run, there was a nice friendly atmosphere and I had a useful time and would attend again.â€'
The conclusion drawn from the AEO Conference was that while technology demanded respect and should be embraced rather than feared it is ultimately strategy and not technology that should drive your business forward.
The headline sponsors of this year's AEO Conference were Freeman, Hiscox Event Insurance and RAI Amsterdam.